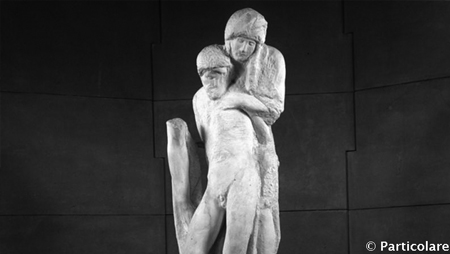 The Pietà Rondanini is considered to be the final sculptural masterpiece by Michelangelo. In this work the theme of compassion, which had been approached various times by the artist, is particularly moving; the sculptor had worked on it for many years without completion.
The sculpture, as we see it today, is the final elaboration of an idea initiated, presumably, in 1552. Some of the features from the first work can still be easily identified: the smooth legs of Christ, his right arm broken off from the body and the face of the Virgin facing a different way, recognisable from an outline of the eye and nose on the left side of the head.
Around 1555 the maestro reworked this project significantly modifying the composition: the figures assumed the actual lengthened shape in which Christ and the Virgin seem to mould into one in a pitiful embrace. The marble assemblage is placed on a Roman altar; the same upon which the sculpture was found when it was in the Rondanini Family collection.
The statue was purchased by the City of Milan in 1952 and made public on the occasion of the post-war reopening of the Castle Museums: in 1956 it was placed at the end of the route through the Museum of Ancient Art in a special area created to isolate Michelangelo's final masterpiece.
The sculpture is now on display in the new museum, created inside the ancient Ospedale Spagnolo (Spanish Hospital) in the Castello Sforzesco, a fascinating space that has never opened to the public before and is exclusively dedicated to Michelangelo's last masterpiece.